On Sunday, October 9, the WEF Students and Young Professionals Committee welcomed 25 teams from 21 schools spanning 4 countries and representing 19 Member Associations to compete in the 2022 Student Design Competition.
The event promotes real-world design experience for students pursuing education or careers in water and wastewater engineering and science. Student teams or individuals prepared a design to help solve a water quality issue and presented their project to a panel of judges.


2022 Water Environment Competition winners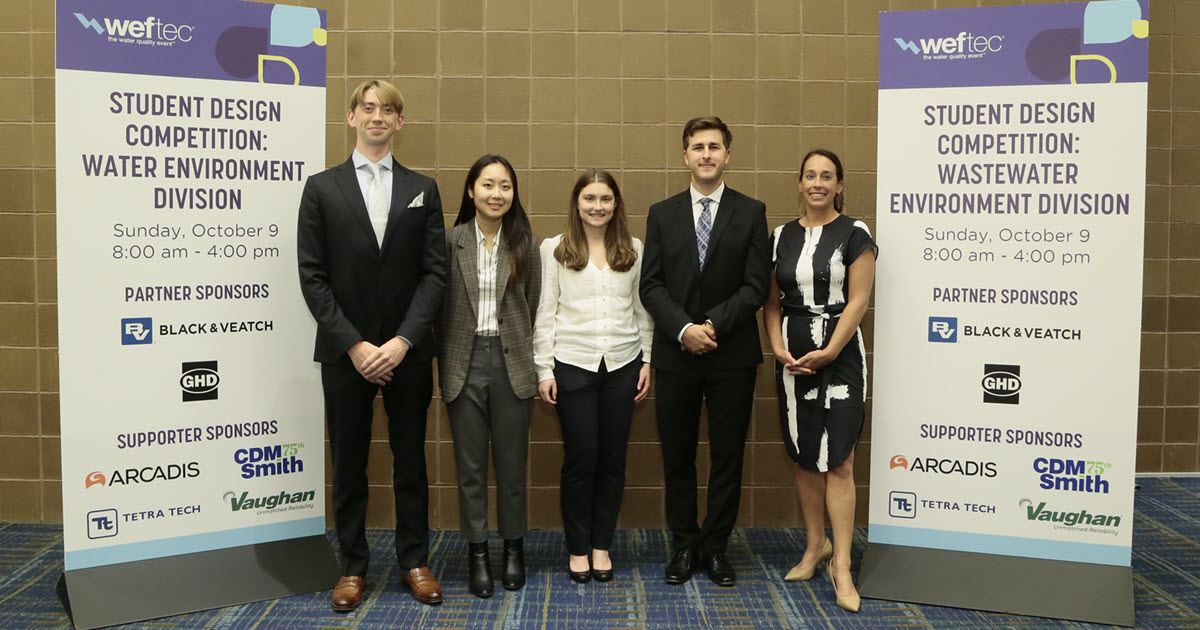 University of Waterloo (WEA Ontario)
SUNY Environmental Science and Forestry (New York WEA)
University of South Florida (Florida WEA)
Illinois Institute of Technology – Harvey Water Quality Improvements (Illinois WEA)
2022 Wastewater Competition winners
University of Texas at Austin (WEA of Texas)
University of British Columbia (British Columbia MA)
North Carolina State (North Carolina WEA)
Costa Rica Institute of Technology (Central States WEA)
About the Competition
The competition tasks students to prepare and present a design that helps solve a water quality issue. Teams evaluate alternative ideas, perform calculations, and recommend solutions in the form of an engineering report and presentation.
The competition includes two different categories:
Wastewater Design — This category includes design projects that traditionally address a challenge within a water resource recovery facility. Examples might include hydraulic capacity design, upgrades to existing treatment systems, and biosolids handling.
Water Environment Design — This includes projects that look at things within the broader water environment. Examples include water reuse, stormwater management, and wetland construction.
Learn More
about the
Student Design Competition