Operations Challenge is the water sector's most exciting professional development program. Top-tier wastewater operations professionals from all corners of the U.S. — as well as Canada, Colombia, and Germany — matched wits and wills during five fast-paced events on Monday and Tuesday at WEFTEC 2022.
This year 45 teams, split among three divisions, competed in the 35th annual Operations Challenge. Each team represents a WEF Member Association or comparable operator organization. After a rigorous review by volunteer judges, this year's winners were announced:
Division I Winners
Elevated Ops - Rocky Mountain WEA
Centrifugal Force - Texas WEA
Lethal Concentration - WEA of South Carolina
Division II Winners
Sewerside Squad - Rocky Mountain WEA
Smooth Operators - North Carolina WEA
River Guardians - WEA of Texas
Division III Winners
Mixed Liquors - New York WEA
Mass Chaos - New England WEA
Dirty Birds - Florida WEA
Each team earned an overall score based on their weighted performance in each of the five Operations Challenge events. Each event tests a different aspect of work in the wastewater profession: Process Control; Laboratory; Safety; Collection Systems; and KSB Maintenance.


Process Control Event
On Monday, teams completed the timed Process Control Event to test their mathematical aptitude and familiarity with wastewater treatment processes consisting of both written and electronic portions. For part of the trial, teams used a specialized wastewater treatment process simulator to visualize real-world problem scenarios and make real-time decisions to fix them.
Laboratory Event
The subsequent Laboratory Event called on teams to analyze a range of water quality parameters across a variety of settings — including influent, aeration basins, and effluent — more quickly than their opponents. The event required competitors to demonstrate their competence in such lab-based tasks as sampling, sample preparation, data collection, and data interpretation, as well as their familiarity with common laboratory equipment.
Safety Event
On Tuesday, the Safety Event required teams to respond to a hypothetical emergency in which a co-worker had collapsed inside a maintenance shaft. Acting as a rescue team, competitors had to safely enter a confined space, retrieve the incapacitated co-worker, diagnose and fix a safety hazard within the confined space, and re-seal the maintenance shaft.
Collection Systems Event
In the Collection Systems Event, teams vigorously bisected a stretch of 8-in. PVC pipe to fix a leak, connected a 4-in. lateral, and programmed an autosampler, all while water continued to flow through the pipe.
KSB Maintenance Event
Finally, competitors in the KSB Maintenance Event responded to an alarm at a hypothetical treatment facility. The alarm was triggered by the accumulation of non-flushable wipes that had incapacitated a pump station. The teams had to troubleshoot an electrical control panel, perform maintenance on a submersible pump and wet well, and ultimately restore the pump station back to its normal operation.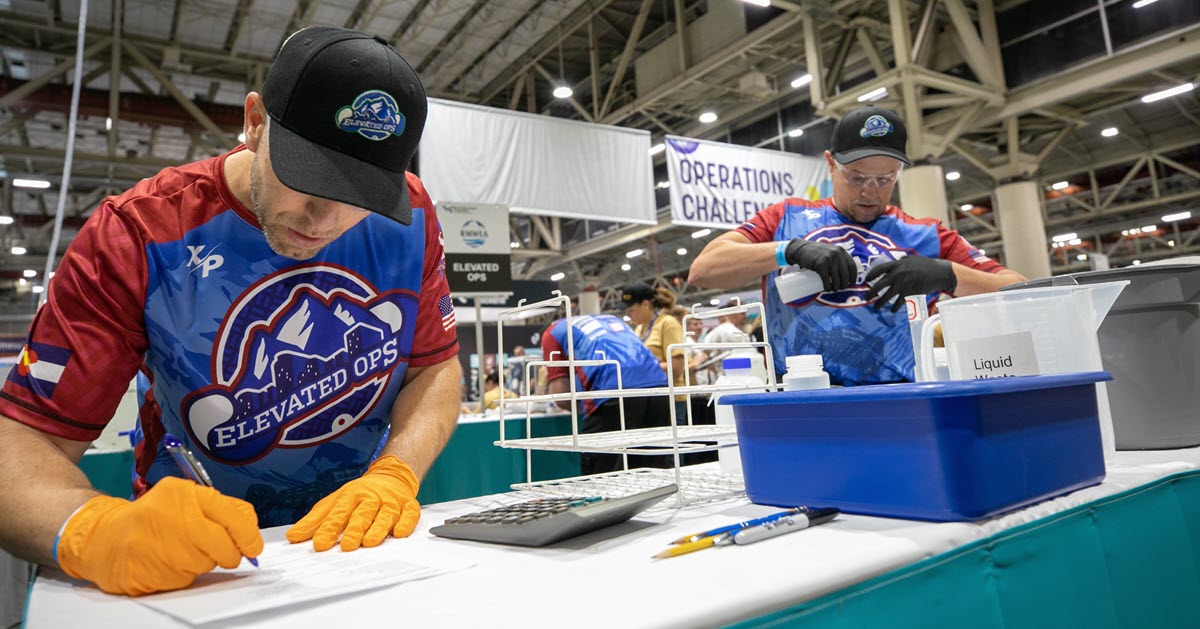 Elevated Ops competes in the Laboratory Event. Kieffer Photography
---
Operations Challenge Goes Global
Each year at WEFTEC, it is not unusual for a handful of foreign Operations Challenge teams to travel across international lines to represent their country against the best competitors the U.S. has to offer. This year's competition was no different with
two Canadian teams — the Sludgehammers and Highland Creek Rabble Rousers, both representing the Water Environment Association of Ontario,
a team from Colombia — Aguas de Manizales, representing ACODAL Colombia, and
a team from Germany — All Stars IFAT Munich, presenting DWA Germany.
However, the presence of these international competitors is only one way in which Operations Challenge is becoming a truly global phenomenon. Over the past year, competitions based on the Operations Challenge model took place in Argentina, Colombia, Denmark, and Germany.
Several U.S. and Canadian teams attended these competitions as representatives of North America.
2021 Division I defending champions Controlled Chaos, representing the Water Environment Association of South Carolina, competed in Germany.
The Water Environment Association of Ontario Sludgehammers competed in Denmark.
A composite team featuring Emily Zidanic of the New Jersey Water Environment Association Cakebreakers; Marlo Davis, former Safety Event coordinator; Raudel Juarez, coach of the Water Environment of Texas River Guardians; and Bradley Yeakle, coach of the Chesapeake Water Environment Association Technicians competed in Colombia.

More Details to Appear in WE&T
The December 2022 issue of Water Environment & Technology magazine will contain full coverage of this year's Operations Challenge competition. You also can see the full history of Operations Challenge through WEF's publications.