On Monday, Oct. 1, WEFTEC 2018 Master Lecturer Art K. Umble, Ph.D, PE, BCEE, and WEF Fellow, presented his perspective on: The Emerging Circular Economy – Can We Make a Relevant Contribution?
Umble was selected as this year's lecturer based on his significant contributions to the water sector as lead for the Global Wastewater Practice for Stantec Consulting.
Umble modeled his approach along the lines of a "TED Talk." He acknowledged that he is not an academic, but rather focused his presentation on some thoughts around "how we move from our current thinking of treatment for wastewater to more of a circular economy, where we're recovering resources from the waste that we generate."
He readily admitted that recovering resources from waste is hardly a new concept and that significant dialogue has been occurring in the past decade around the development of value propositions from converting waste streams into value streams. He went on to introduce some of his personal thoughts on observing nature and using those observations to develop new solutions for the treatment of waste in the same way that nature does.
"If you look at nature carefully, you will see that nature is a constant recycler of the waste that it creates and has ways of reusing and recycling that waste to benefit the propagation of ecosystems," he said, adding that embracing that paradigm and applying it to engineered systems for the treatment of wastewater provides "an opportunity to think about the circularity that creates, not just from an environmental perspective but also from an economic perspective."
Umble addressed the value proposition behind regenerating useful products from waste materials, including issues surrounding displacement and possible replacement of extracted resources.
"The same is true with wastewater," he said. "We have all kinds of carbon in the wastewater. We have nutrients in the wastewater. We have the water itself. We have energy that's embedded in wastewater. All of these kinds of things can be recovered and developed into an economic value. And all of this creates a circular motion of economic strength and economies."
Reiterating that the recovery of resources from wastewater is not a new concept, Umble asserted that what is new, from his perspective, is that we are only now beginning to learn that nature and the natural ecosystems around us have a way of teaching us, helping us measure, and mentoring in developing solutions to many of these issues.
"What would be the outcome if we moved more to utilizing the fundamentals of 'biomimicry' in our wastewater treatment schemes and handling the byproducts of these treated wastes?" he asked. "We must push for more engagement with the ecology model, because nature is a circular economy."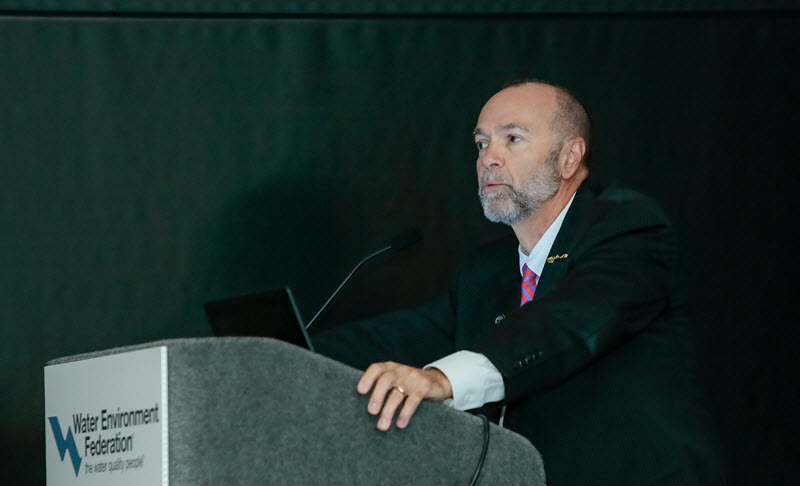 In addition to his lecture, Umble also appeared on WEF's Words On Water podcast to discuss the concept of a circular economy.