Today's question: With so much to see and do at WEFTEC, what has been your specific focus and how do you manage your time?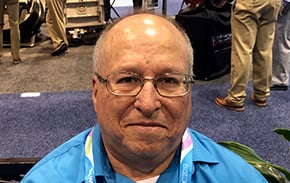 George Abbott
Environmental Engineer
Northrop Grumman – Lake City Army Ammunition Plant
Independence, Mo.
I'm a wastewater guy. And we have four pre-treatment plants at Lake City Army Ammunition Plant, plus I help out with the rest of our company's plants, troubleshooting where it's necessary. So if they have problems they give me a call and I help them out.
In terms of managing my time, I've been fortunate to go here quite a few times in a row, so I've got it organized where Mondays I walk the floor, then Tuesdays and Wednesdays I usually go to the papers. Then if there's a special interest on a particular vendor I may double back. Like today, for example, I plan to go back to a couple of places before I head up to the papers.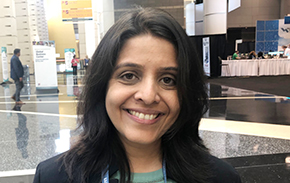 Neepa Shah
Associate
Hazen and Sawyer
Dallas
I'm here for the wastewater conveyance collection system. And I was a speaker on odor control strategies for a collection system.
I think the app really helped in planning my time here at WEFTEC. The ability to go online and plan ahead of time allowed me to look at all the session technical details and just select where I really wanted to go. And then in between I swung by on the exhibit hall to look at all the cool technologies on display. I loved it. And I did see some new technologies, like eco-friendly stuff, on the odor side.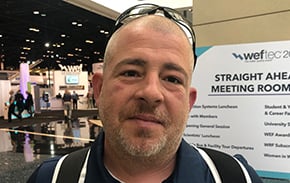 Loran Shipman
Foreman
Wastewater Collections Department
City of Bentonville
Bentonville, Ark.
I'm with the Wastewater Collections Department for the City of Bentonville, so I look at the things that relate to that subject. I also look at the classes that are provided here in relation to that subject.
This is my third year in a row at WEFTEC. So I've learned to make a list of things that I want to do and things that I want to learn about. Then I check those off as I go. There's just a lot of information provided here.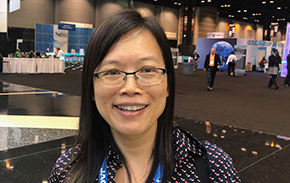 Yuan Fang
Senior Project Engineer
Stantec
Kennett Square, Pa.
My focus is on the wastewater treatment process. So I'm going to a lot of technical sessions on treatment and a little bit on the monitoring side.
The app really helps a lot in organizing my time, too. You can check on the sessions and combine that with other activities surrounding your project. So it's a combination of both.