Visit the WEFTEC Bookstore for book signings, expert demos, new books and training materials, and new merchandise.
The WEFTEC Bookstore will host Opening General Session Keynote Speaker Shama Hyder for a book signing immediately following her address on the Main Stage.
Visitors can also take advantage of demonstrations of Access Water, the Water Environment Federation's technical content platform, to learn how you and your entire utility or company can access conference papers, digital books, technical reports, magazine articles, and fact sheets.
On top of that, the Bookstore will showcase 10 new or updated water quality titles available for purchase. These include Wastewater Treatment Fundamentals III — Advanced Treatment, the third in the Wastewater Treatment Fundamentals training series.
Visitors also will find an assortment of books for managers at all levels.

Book Signings
Shama Hyder, an award-winning brand strategist, global speaker, and bestselling author will provide the keynote address at the WEFTEC 2022 Opening General Session. She will be in the bookstore immediately following her keynote address to sign copies of her books, The Zen of Social Media Marketing and Momentum: How to Propel Your Marketing and Transform Your Brand in the Digital Age.

2022 New Releases
"The water sector is constantly changing and the resources that we develop for water professionals have to keep pace with that change," said Lorna Ernst, Managing Director of Publishing for WEF. "As a result, half of the new books at WEFTEC are new editions of publications. The other half are new resources entirely. To meet one of the sector's greatest needs, we continue to focus on operator training resources and are pleased to debut Wastewater Treatment Fundamentals III — Advanced Treatment here at WEFTEC."
The 10 new and updated books available are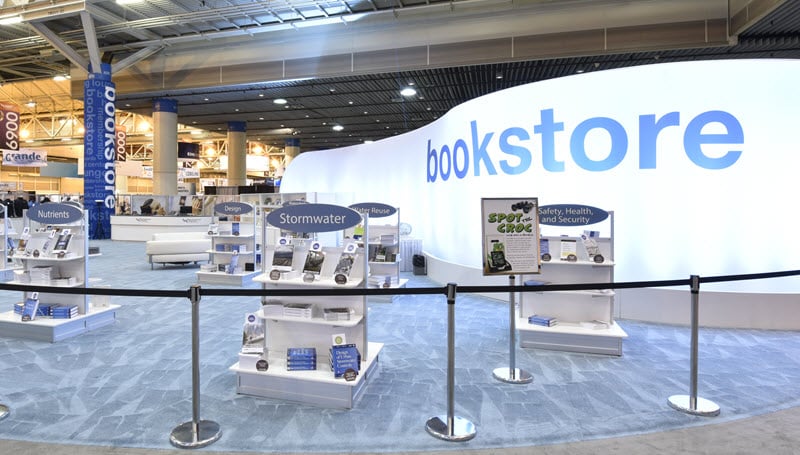 Bookstore Location & Hours
The bookstore is located in Hall G in WEF Plaza.
October 9, 8:00 a.m. – 5:00 p.m.
October 10, 8:00 a.m. – 5:30 p.m.
October 11, 8:00 a.m. – 5:30 p.m.
October 12, 8:00 a.m. – 3:30 p.m.

Access Water Demonstrations

Visitors will receive a free gift when they request a brief demonstration of Access Water, a powerful tool that houses conference papers, fact sheets, magazine articles, technical reports, and digital books, including WEF's industry-leading standards and Manuals of Practice. A subscription allows utilities, companies, and others to provide access to more than 20,000 pieces of technical content for all of their employees.
"Using a tool like Access Water has the potential to put almost any water-quality answer at your fingertips," according to Andrea Cale, Senior Manager of Publishing at WEF. Cale will be on hand in the Bookstore throughout WEFTEC to give demonstrations on how to use Access Water.