One Chicago public school will be getting a new garden and a new outlook on water this fall.
During WEFTEC 2019, water sector volunteers, including students and professionals, will contribute their time to the 12th Annual WEF Community Service Project on Saturday, Sept. 21, 2019.
This year's project will take place at the Maria Saucedo Scholastic Academy, in conjunction with OPEN Center for the Arts, in the heart of Chicago's vibrant Little Village neighborhood. The academy is a citywide magnet school serving 1,000 students from preschoolers to eighth graders.
Volunteers will renovate the school's student drop-off area, which floods during rain. The puddles are so severe that parents have had to lay down plywood over the curbs to get students into school safe and dry.
Project volunteers will build a rain garden at the school to manage stormwater. Other improvements will include installing a walkway and a seating area to add utility to the drop off area. Plans are still being developed for an art project to complement and beautify the space.
When complete, these stormwater fixes will alleviate flooding and allow students safe passage to school as well as provide students and community with stormwater educational components. The project will serve as a bridge between the academy and the neighborhood's growing art and community scene.
Get Involved
All WEFTEC attendees are welcome to participate in the project. There is no cost associated with volunteer, but you must register for the event when you complete your WEFTEC registration.
The WEF Community Service Project is organized by the WEF Students and Young Professionals Committee. Service Project Committee volunteers help design, market, fundraise, and secure materials for the project. Contact Megan Livak to donate or get involved.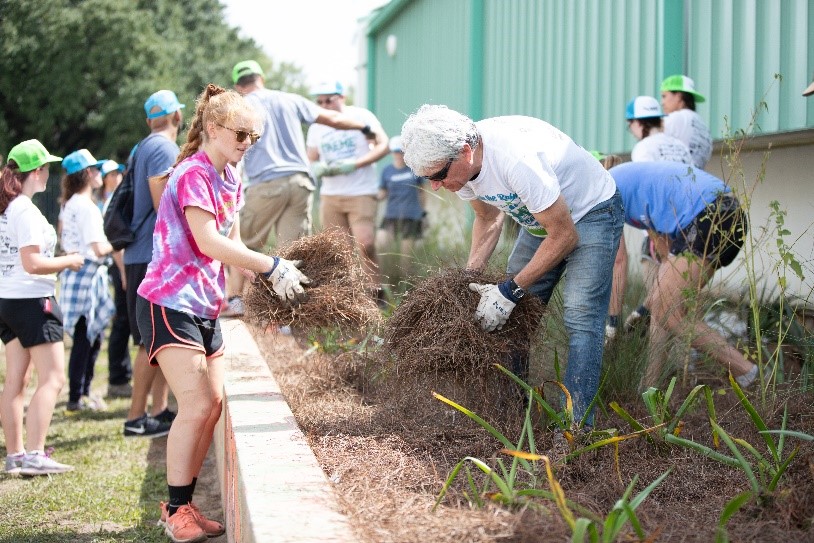 Volunteers at the 2018 Service Project in New Orleans built a bioswale and filled it with native plantings.