Every year on the Saturday before WEFTEC, volunteers gather for the WEF Community Service Project. Help us continue this 15-year tradition and join us in Chicago on Saturday, September 30.
This Year's Location
This year's project, in collaboration with Friends of Thorp, will take place at O.A. Thorp Scholastic Academy of Chicago. O.A. Thorp is a Chicago public school that serves more than 840 students from kindergarten through eighth grade. The school serves students from all over the city, including the south, west, and northwest sides of Chicago.
O.A. Thorp is represented by 25 language groups, as well as a diverse cultural background of students. The Academy offers outstanding educational programs and is consistently ranked one of the top-performing schools in Illinois.


Today's Water Students, Tomorrow's Water Leaders
This year's project, titled, "Today's Water Students, Tomorrow's Water Leaders," will transform drainage and flooding issues that the school experiences onsite into a beautiful, welcoming, green space with a rain garden. The rain garden will provide better stormwater management and add stormwater educational components for the community.


Join the Project
The WEF Students and Young Professionals Community (SYPC) organizes the Community Service Project each year. Registration for the Service Project is free and open to all WEFTEC attendees and their guests. Volunteers will receive transportation to and from the site, a t-shirt, lunch, and a WEF Community Service Project ribbon for their WEFTEC badge.
You can sign up to volunteer for the Service Project at the same time you complete your WEFTEC Registration. If you've already registered for WEFTEC, you may contact customer service and request assistance to add this event to your profile.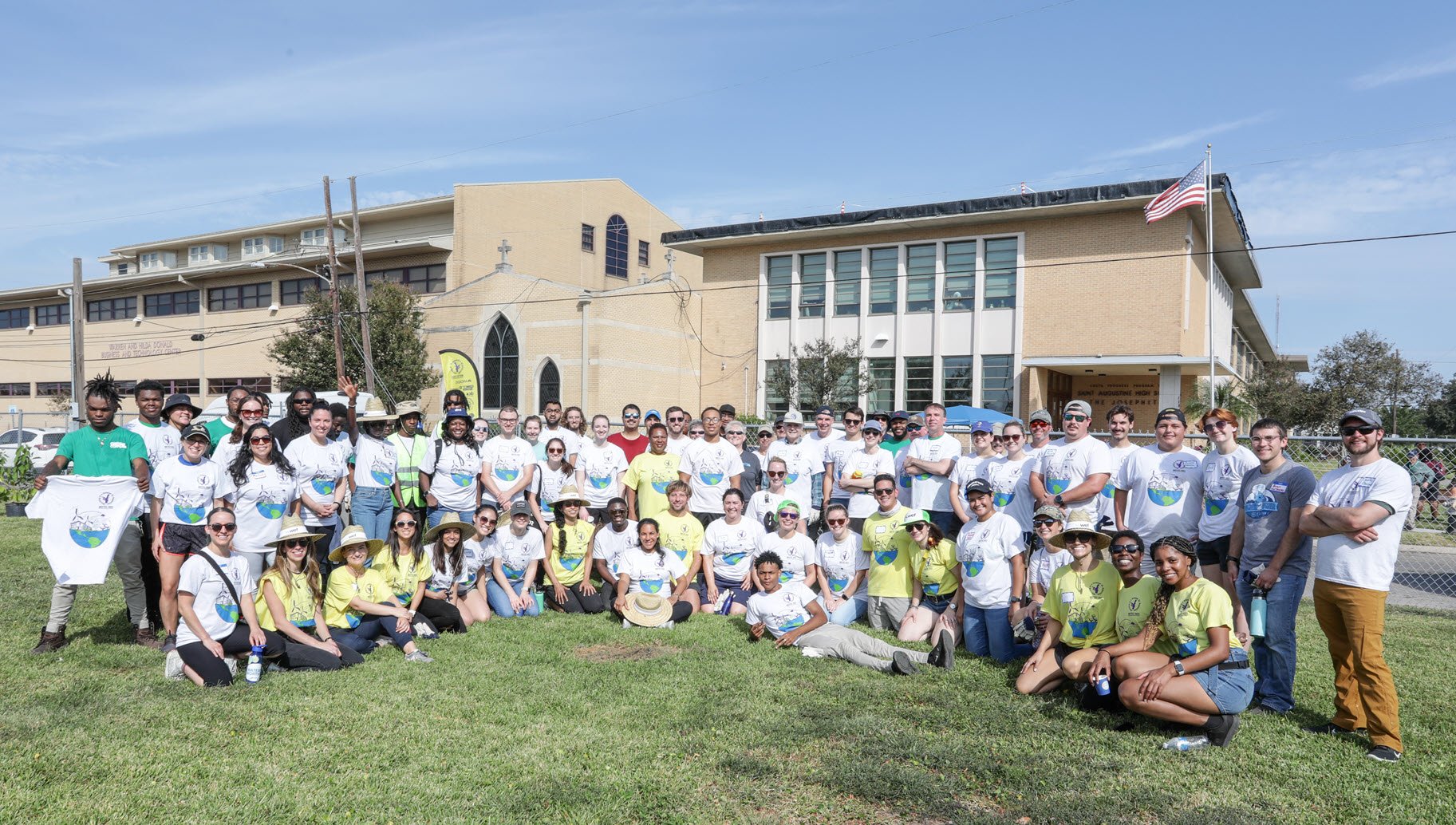 Offer Your Support
If you are interested in helping plan this year's project, please contact the 2023 Service Project Chairs:
Service Project volunteers help design, market, and raise funds and materials for the project. This project provides a great opportunity for WEFTEC attendees to give back to our host city.
Watch the team of 100 volunteers complete the 2022 project, Marching to a Greener St. Augustine.
Even if you're unable to join us onsite, you can still help support the Service Project. WEF accepts personal and corporate donations at any level to help continue and grow the projects.
Since 2008, the WEF Community Service Project has made a significant impact on several WEFTEC host cities: creating 8 rain gardens, 9 bioswales, 3 outdoor classrooms, and 1 stormwater managing walkway, each of which includes hundreds of native plantings.