WEF is delaying WEFTEC Connect registration for a few weeks to make sure that we deliver an experience that meets the quality you expect.
While registration for WEFTEC 2020 in New Orleans continues, we are working quickly and carefully to add the best virtual options to the world's largest annual water quality event. We take very seriously the high-quality education and the exemplary customer service that WEFTEC delivers in person; and we hope to match those expectations in every aspect for the virtual option, WEFTEC Connect.
The virtual event platform will incorporate
a blend of live and pre-recorded technical content,
data-driven matchmaking between participants,
1:1 appointment scheduling with exhibitors,
live chats between individuals or groups,
virtual meeting rooms for networking and product demonstrations, and
access to educational content and the exhibitor showcase for a full year.
To make sure we hit the mark, we are delaying the opening of registration until later this summer. We hate having to delay, but satisfying your needs and expectations is our top priority.

Your Opinions Matter
As we continue to develop both the educational program, in general, and how it will look and function in WEFTEC Connect, specifically, we want to be as responsive to your needs and opinions as possible.
You are a big part of WEFTEC. To make this virtual component successful, we need your feedback on the things you care about.
We have created a short survey to gather your thoughts on important factors such as programming, pricing, and how you want to participate. Also, via this survey you can give us your email to be among the first to know when we launch registration for WEFTEC Connect.
What We Know
We know that what brings you to WEFTEC is high-quality education, professional development, access to exhibitors, and networking opportunities. WEFTEC Connect is being built to deliver all these things, even if you can't join us in person.
Last month, we asked you which aspects of WEFTEC Connect you were most excited about. Your votes show great interest in all the benefits of WEFTEC Connect. The graph below shows the percentage of all votes cast.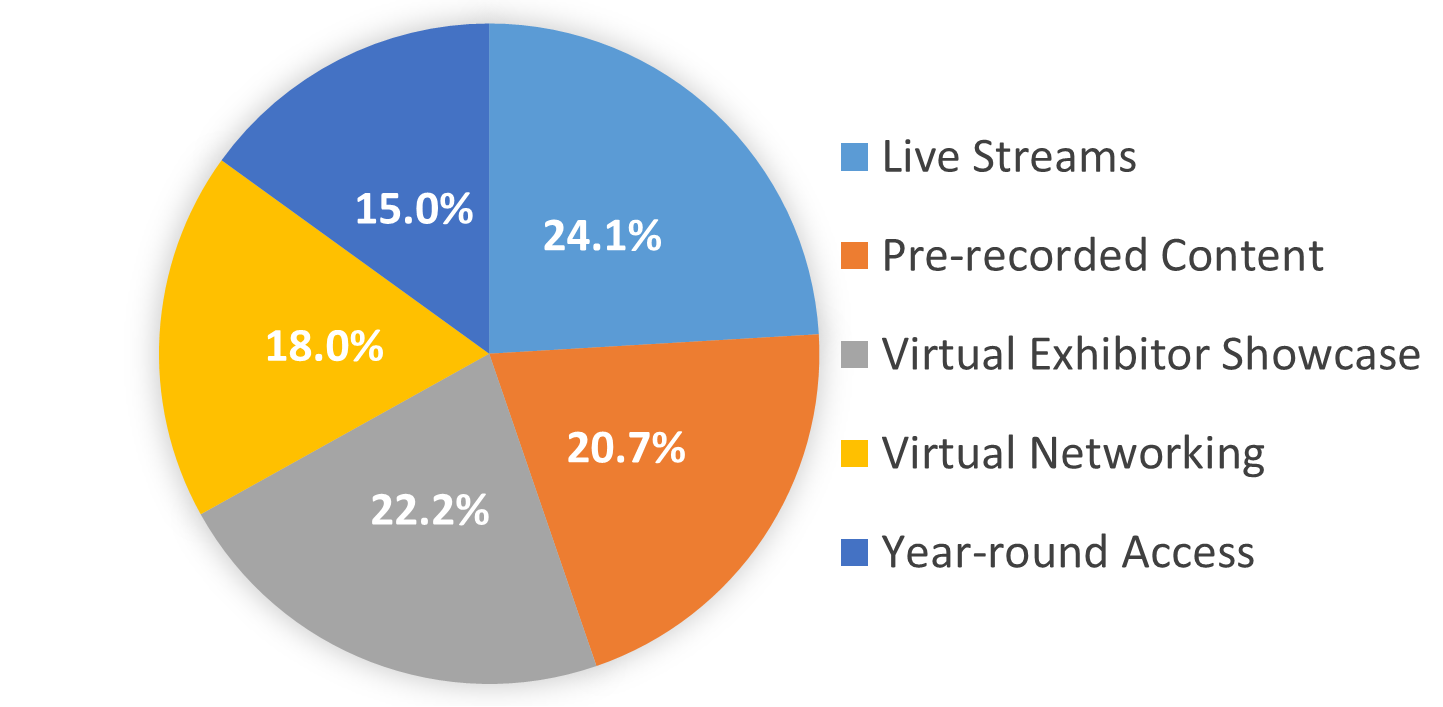 Keeping You Informed
For the latest coronavirus updates about WEFTEC, you can always visit the WEFTEC 2020 Coronavirus Update. And for the most up-to-date information and resources on coronavirus for the water sector, visit WEF's coronavirus resource page.