The WEF Bookstore this year offers much more than just books. Drop in to meet authors and maybe win a prize!
Great books won't be the only thing hiding in the shelves of the WEF Bookstore this year. Niles the Crocodile, WEF's mascot, will be concealed somewhere in the store from Sunday, Sept. 22 to Tuesday Sept. 24. Whoever succeeds at the "Spot the Croc" challenge will get a chance at a big reward.
"When someone finds him, they complete an entry form that includes their name, email, and the location of Niles," said WEF Product Manager Karah DeMarco. "Each day at noon a drawing is done to find a winner of a prize. The prizes will Apple AirPods, a Bluetooth Speaker, and a Fitbit.


Book Signings
The WEF Bookstore also will feature three author signings.
Brad Temkin will be signing his book, The State of Water, on Tuesday, Sept. 24 at 1 p.m. Temkin is a photographer and his book showcases water and structures of water in various situations and perspectives.
"I think it will be a nice addition to the store and having him there will offer a different perspective to attendees," DeMarco said.
Richard Lanyon, author of three books related to water projects around Chicago, will be on hand both Monday and Tuesday at 2 p.m. His books include Building the Canal to Save Chicago, Draining Chicago: The Early City and the North Area, and West by Southwest to Stickney: Draining the Central Area of Chicago and Exorcising Clout.
"I think it will give attendees a local perspective on the water industry," DeMarco said.
On Tuesday, at 11 a.m., Lori Harrison, author of Why Water's Worth It will be signing copies of this popular water-themed children's book. She also will have some giveaway items to support the larger Water's Worth It program.
"We wanted to give Lori space to promote the book as well as Water's Worth It as an initiative," DeMarco said. "The storybook has been very popular and has been in high demand, so I think it will be nice for her to get feedback and interact with attendees."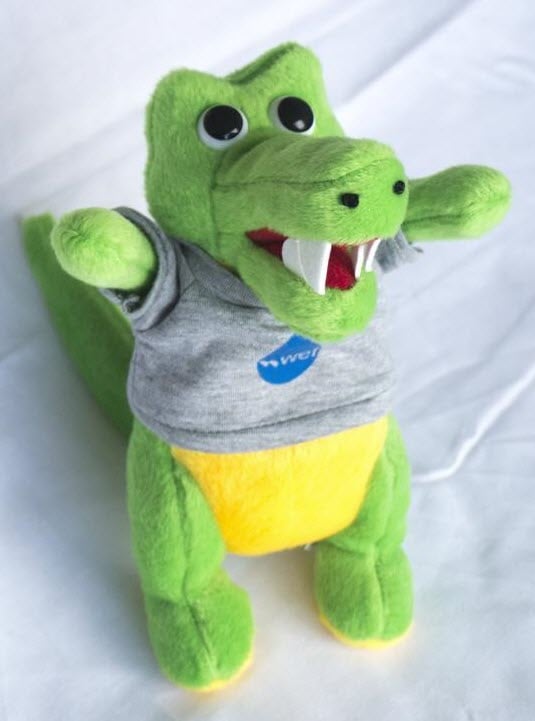 Trying to find "baby Niles" hiding in bookstore is a WEFTEC tradition. Any bookstore customer who finds him and fills out an entry card is eligible for the daily drawing.
(Participants do not have to be present to win. Full rules available in the Bookstore.)