Sponsored WEFTEC Product Launch presentations and Q&A sessions bring a new level of detail and technical specifications to exhibition programming.
Join us at the Technology Spotlight Theater (Booth 6139 – North Hall B)
Tuesday, October 3 | 12:30 - 1:15 p.m.

Discover the Future of Sewer Infrastructure Management with Sewer3D™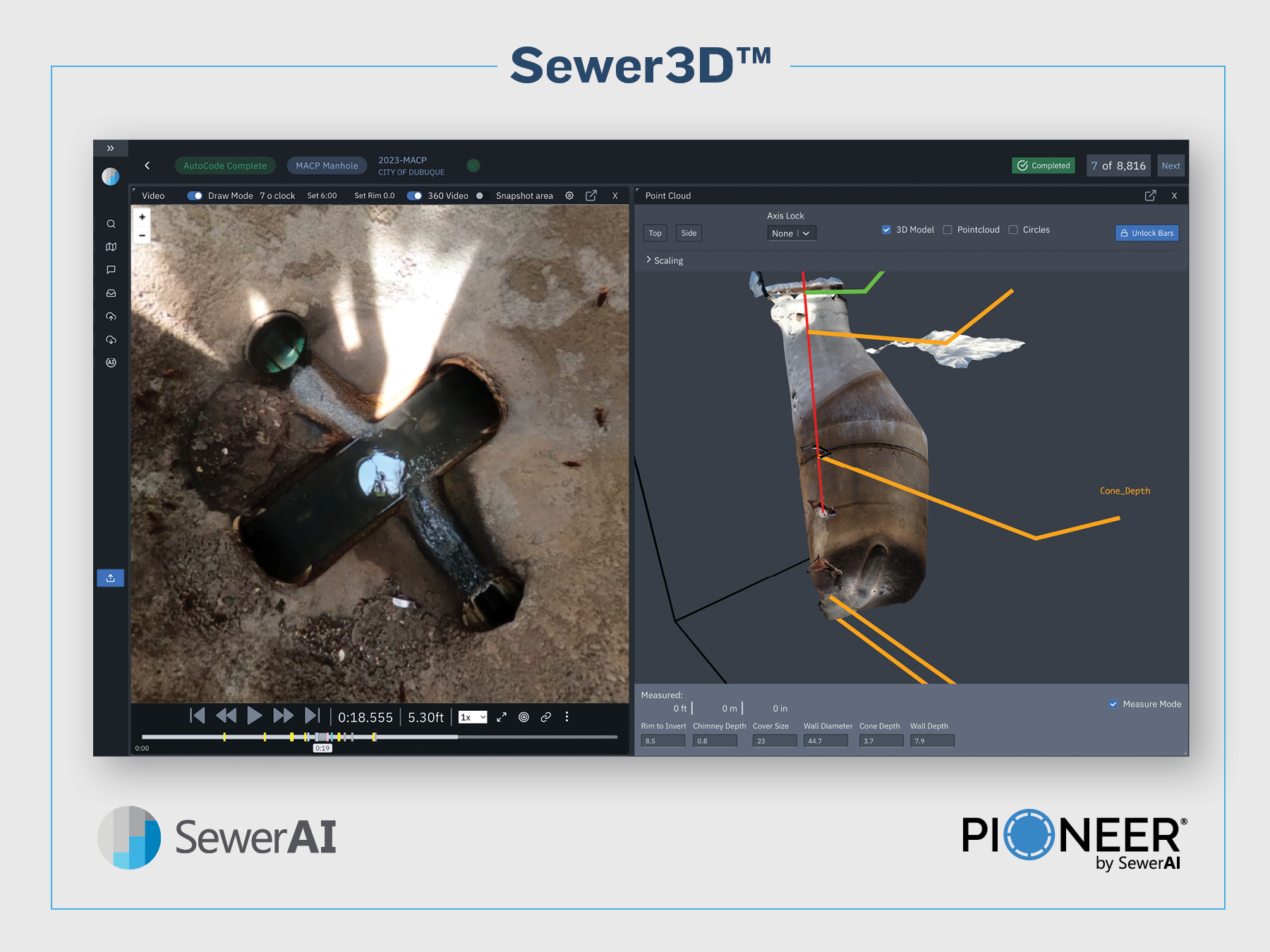 Sewer3D™, the cutting-edge software developed by SewerAI, introduces a groundbreaking approach to sewer infrastructure management through the power of 3D technology. By utilizing affordable 360 "Action Cameras," Sewer3D™ transforms manhole inspection videos into intricate, textured 3D models of sewer systems. This innovation allows for unparalleled measurement precision, geometry analysis, and seamless integration with CAD software for enhanced decision-making.


Unveiling the Technology Behind Sewer3D™
The core of Sewer3D™ lies in photogrammetry, a sophisticated mathematical method that translates digital pixels in inspection videos into precise 3D points. Within the rendered 3D models, users can swiftly assess sewer components, perform custom measurements with centimeter-level accuracy, and even generate unfolded 2D views for vertical measurements and structural analysis.
Experience Interactive Exploration within PIONEER
Sewer3D™ isn't just about static models. Seamlessly integrated with SewerAI's PIONEER inspection management cloud platform, users can interactively explore the 360 videos captured during inspections. Experience virtual pan and tilt functionality, immersing yourself in the sewer structure and gaining insights like never before.
Unleashing Transformative Advantages
The impact of Sewer3D™ reaches far beyond its technological marvel. This innovative solution revolutionizes sewer infrastructure management in several ways:
Affordability and Accessibility: Say goodbye to expensive legacy systems. Sewer3D™ employs consumer-level 360 "Action Cameras," drastically reducing costs for contractors and sewer utilities.
Efficiency: With a field inspection time of under 10 minutes per structure and parallel computing in PIONEER taking 15-45 minutes, the process is efficient and effective.
Versatility: Sewer3D™ caters to various applications, from new construction verification and NASSCO MACP Level II assessments to trenchless pipe lining calculations and precise material estimations for manhole rehab.