Operators, ready to share your good work? The Operator Ingenuity Contest is back for 2020. The contest seeks to recognize the simple, everyday fixes that operators and other water professionals invent to make their jobs easier and safer. Entries are judged on solution safety, resourcefulness, and transferability.
Draft a brief description of the fix, snap a picture, and enter to win. The deadline for entries is June 5, 2020. The competition is open to all clever ideas related to any aspect of the water sector, from equipment maintenance to emergency response to process optimization. All it takes to enter is:
A short description (a few sentences) of the task you tackled, and the fix you found
A few photos of your invention or improvement
Information about the solution's cost, safety, materials required, and transferability
Get some inspiration from 2019 winners
The Muckraker Award
This award went go to Mike Wenner of the City of Napoleon (Ohio) for creating a tool to help solids dry more quickly. Wenner fabricated a large rake from a piece of steel angle and welded to it several portions of cut pipe. The rake is attached to a front-end loader. The loader can now be used to rake the solids in the drying bed, increasing its surface area and drying it much faster than was previously possible.


The Rag Spear Award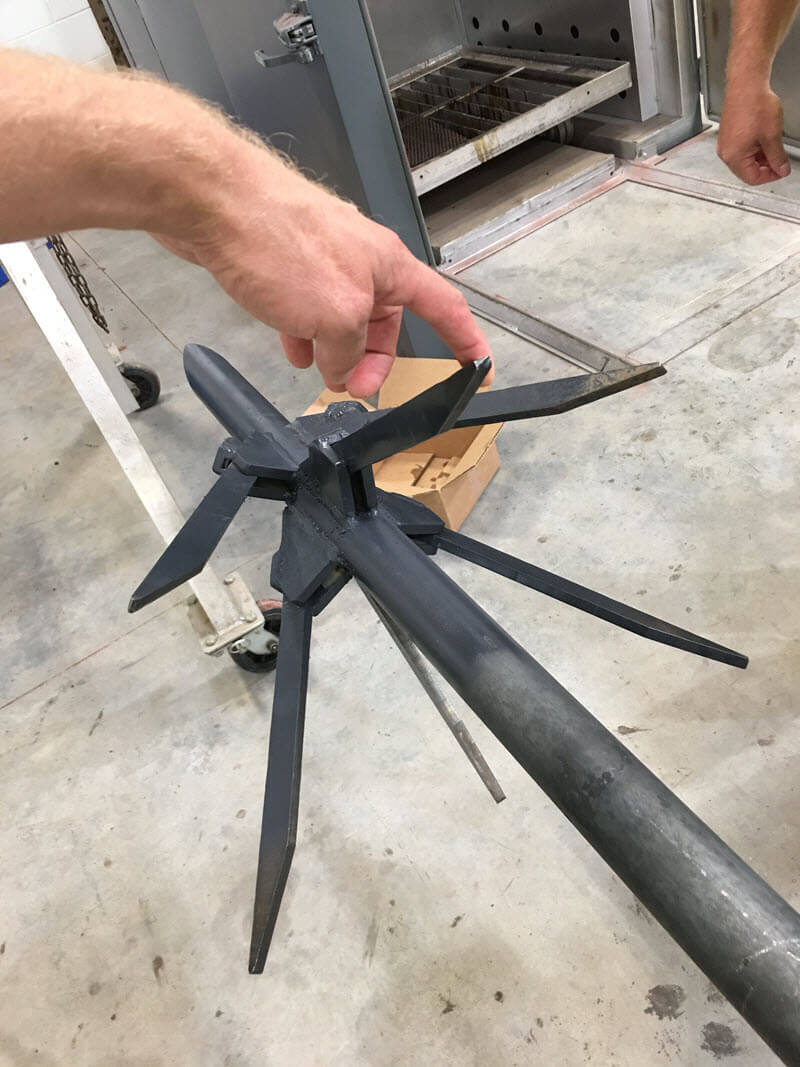 Matt Haggler from the City of Meridian (Miss.) won this award for skewering an irritating problem. The city's 800,000-gal anaerobic digesters hadn't been cleaned in several years and the influent screens weren't working well. This meant wipes, rags, and hair had built up in the tank. The bound up material had created massive rag flotillas, which soon began to affect digester performance. Haggler's solution was a 25-ft-long long, 50-mm-thick (2-in.-thick) solid steel spear head with collapsible tines. The spear can be attached to a crane and forced into the rag balls. After stabbed in, the crane pulls the spear back out and the tines unfold. The tines hook into the rag ball like barbs, and the mass of material can be pulled out. The spear has removed rag balls weighing nearly 1,000 lbs. The spear cost less than few hundred dollars and has saved the city significant money in down time. Additionally, it enabled the digesters to work properly.


The Sewer Sailor Award
This award goes to James E. Segrest Jr. from the City of Auburn (Ala.) Water Resource Management Sewer Department. Segrest had a wide diameter sewer main that had to be inspected. The flow in the main was too great for the facility's crawler camera to be feasible. So, instead of sending a human in, Segrest attached a GoPro camera and flashlights to a cooler lid and floated it through the main. He attached the float to a reel of kite string to control its progress. The facility has used the sewer sailor several times.
Deadline: June 5, 2020