Every year, on the Saturday before WEFTEC, volunteers gather for the WEF Community Service Project. Help us continue this 14-year tradition and join us in New Orleans on Saturday, October 8.
This Year's Location
This year's project, in collaboration with Water Wise 7th Ward, will take place at St. Augustine High School in the Seventh Ward of New Orleans. St. Augustine High School is a college preparatory school for young men in grades 8 to 12. Josephite priests and brothers founded the school in 1951 to open its doors to young men, especially the economically disadvantaged, who are willing to strive for excellence.
The school also is known for battling segregation in New Orleans and desegregation of high school athletics in Louisiana. Additionally, its famed Marching 100 was the first African American high school band to march in the Rex parade on Mardi Gras Day in 1967. The Marching 100 also played for Pope John Paul II in 1987 and for eight U.S. Presidents.


'Marching to a Greener St. Augustine'
This year's project, titled Marching to a Greener St. Augustine, will transform the school's entryway into a beautiful, welcoming, and green space. The new entryway will provide better stormwater management and add stormwater educational components for the community.


Join the Project
The WEF Students and Young Professionals Committee (SYPC) organize the WEF Community Service Project each year. Registration for the Service Project is free and open to all WEFTEC attendees and their guests. Volunteers will receive transportation to and from the site, a T-shirt, lunch, and a WEF Community Service Project ribbon for their WEFTEC badge.
You can sign up to volunteer for the Service Project at the same time you register for WEFTEC.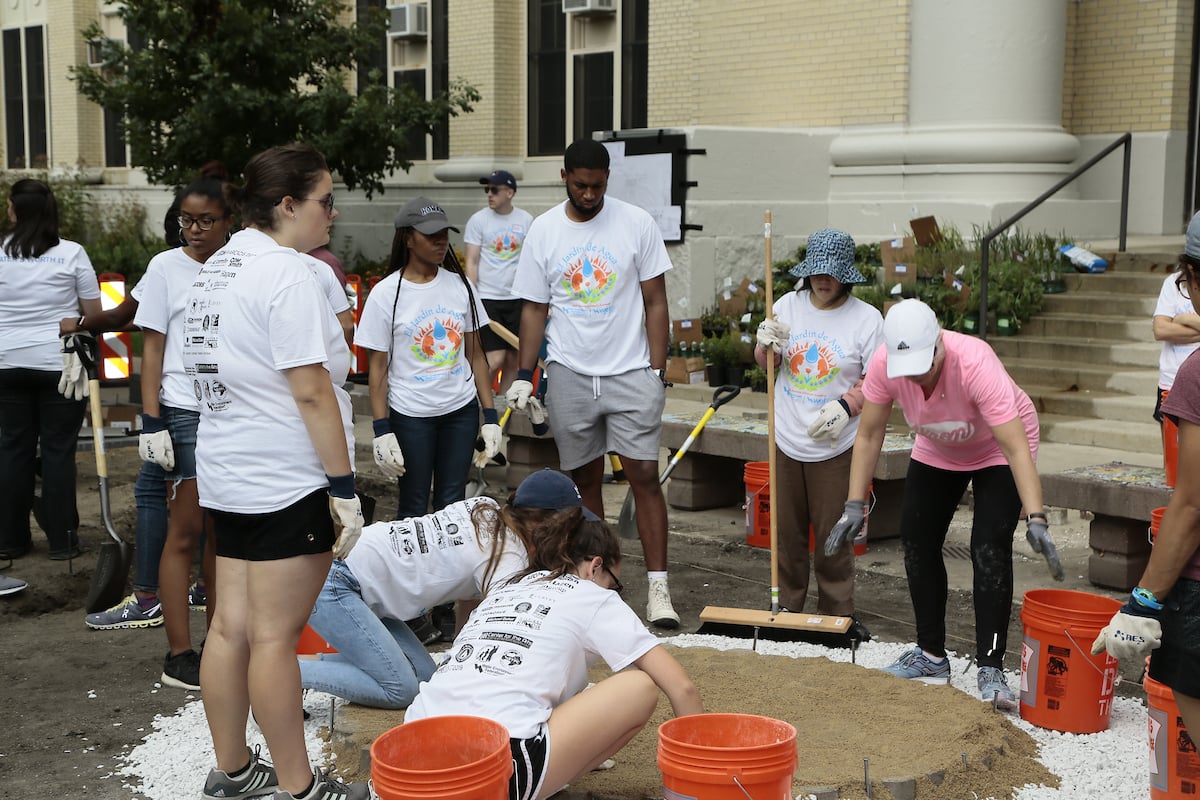 Offer Your Support
If you are interested in helping plan this year's project, please contact the 2022 Service Project Chairs:
Service Project Committee volunteers help design, market, and raise funds and materials for the project. This project provides a great opportunity for WEFTEC attendees to give back to our host city. Watch as more than 50 volunteers completed the 2021 project, Like Is Better by the Lake.
Even if you're unable to join us onsite, you can still help support the Service Project. WEF accepts personal and corporate donations at any level to help continue and grow the projects.
Since 2008, the WEF Community Service Project has made a significant impact on several WEFTEC host cities, creating more than 6 rain gardens, 8 bioswales, 2 outdoor classrooms, and 1 stormwater managing walkway, all of which include hundreds of native plantings.