The WEF Stormwater Institute (SWI) is updating its Municipal Separate Storm Sewer System (MS4) survey. Consisting of 26 questions, the 2020 MS4 Needs Assessment Survey will take the pulse of the U.S. stormwater sector in search of up-to-date information on permittee characteristics, obstacles, and opportunities.
This update follows the inaugural survey from 2018, where SWI polled more than 600 MS4 permittees in the first attempt of its kind to identify common challenges and needs among the diverse array of U.S. stormwater managers. Results of the previous survey, released May 2019, underscored broad needs for dedicated sources of funding, infrastructure renewal or replacement, and clearer regulations.
In the U.S., municipal stormwater management regulations vary greatly. Although the U.S. Environmental Protection Agency (EPA) moderates the stormwater discharges of more than 7,500 communities through its National Pollutant Discharge Elimination System permitting program, cities, states, and tribes largely determine the specific approaches and treatment standards that govern how municipalities manage their stormwater discharges.

Assessing Capabilities and Challenges
Questions included in this year's survey align with the broader goals of the WEF Stormwater Institute: To help provide the information and resources stormwater professionals require in order to perform their jobs better.
Information gaps are a significant survey focus. Many MS4 permittees report, for example, a lack of on-staff information about such concepts as regional, cross-departmental, or watershed-based stormwater management planning, attracting funding to support stormwater projects, or the applicability and benefits of green infrastructure. Understanding shared information gaps will enable the WEF Stormwater Institute and other stormwater groups to serve as a better professional resource.
Other survey questions attempt to gauge whether MS4 permittees have the financial and social means to meet their treatment goals. Among other topics, it asks about
budgetary gaps;
stormwater asset management plans;
MS4 program efficacy;
public outreach, workforce, and other logistical issues; and
investment strategies.
Results will be compiled and interpreted by the WEF Stormwater Institute MS4 Survey Work Team, which consists of leaders from municipalities, utilities, the private sector, and stormwater sector associations. Survey respondents will receive a summary of the findings before the report is published by Summer 2020.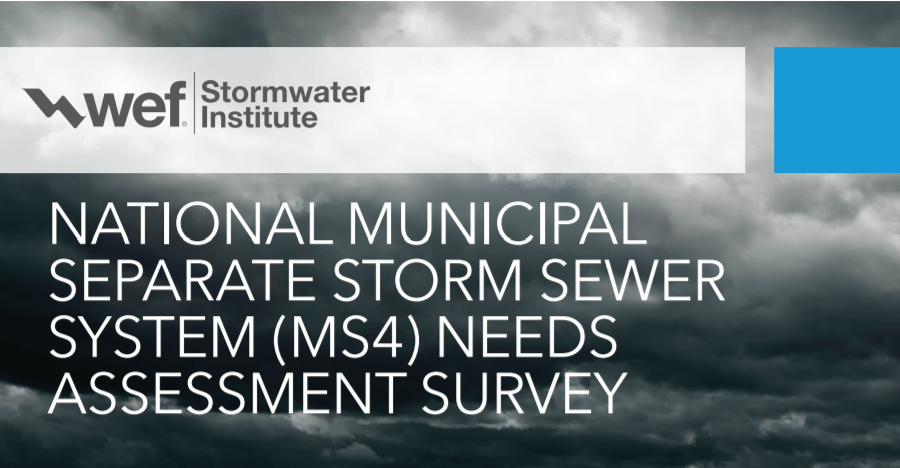 The results of this survey will be presented and discussed at WEFTEC 2020.
Questions? Contact the WEF Stormwater Institute's Rebecca Arvin-Colon.