Drones take flight in the WEFTEC Exhibition.
This year's WEFTEC® exhibition will be literally buzzing with excitement. So, when attendees of the world-class water event — which takes place September 30 to October 4 in Chicago — hear a hive-like humming in North Hall B, they should rest easy. It won't be killer bees, but rather, the demonstration cage in the Drone Pavilion.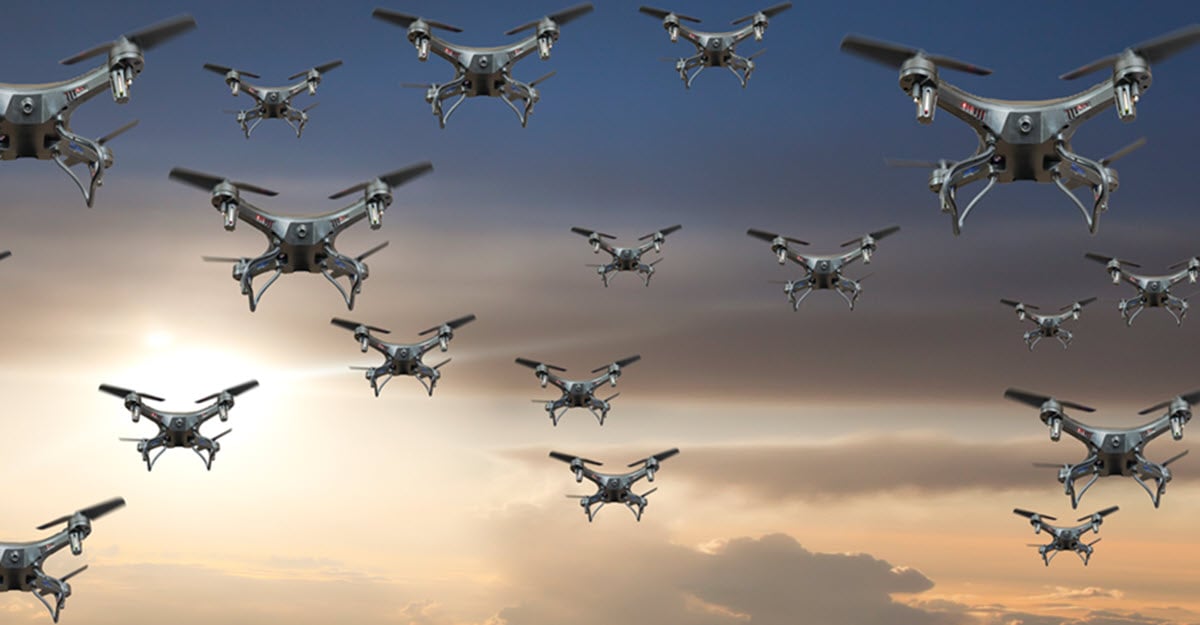 "Due to the hum of the drones alone, the drone pavilion is going to be a big attractor to conference attendees because people will be walking around and asking, 'What's that noise?'" said Scott Aldridge, the Innovation and Disruptive Technologies Leader for CDM Smith (Boston), and also the lead pilot of the company's drones program.
In addition to the demonstration cage, this area will feature exhibitors who offer drone systems that serve the water sector as well as education sessions about drones. Drone technology offers the opportunity to inspect vast reservoirs, pipelines, and treatment facilities quickly. Aerial surveys using advanced sensors boost precision, help prevent safety hazards, and provide incredible amounts of data to drive decisions.
While drones can refer to almost any mobile robot or device that can capture data remotely and safely, the Drone Pavilion will focus primarily on unmanned aerial vehicles (UAVs), also called unmanned aircraft systems (UASs).


Early Flights
Today, the vast majority of water and wastewater drone use is for visual data collection and asset inspection by water and wastewater facilities, and they also can be used for environmental water applications, Aldridge explained.
The sensors attached to these drones include regular and high-definition cameras, for starters. But they also can be thermal, hyperspectral, or multispectral sensors that reach far beyond the visual spectrum. Standing for light detection and ranging, LiDAR is a remote sensing technology that uses the pulse from a laser to collect measurements, which are used to create three-dimensional models and maps of objects and environments — rather than photogrammetry. LiDAR can see through tree canopies and leaves to spot the structures below, Aldridge said.
"We are moving into some new territory with drones and sensors and machine learning," said Karen Kelley, P.E., Senior Water Resources Engineer at CDM Smith and manager of the firm's research and development (R&D) program. "Our R&D program gives us a little bit of flexibility in order to push the boundaries and do some exciting work."
CDM Smith has created Sky Wave™ to fly into the drone data-collection space. Sky Wave will be exhibiting in the Drone Pavilion.


Flight Data
In the drone cage, visitors will get to see the drones in action, but more importantly, see the types and depth of data that can be collected quickly.
"I initially became a drone pilot because they are fun to fly," said Andrew Reicks, GIS Specialist for CDM Smith's Sky Wave remote sensing and machine learning services. "But what I really enjoy is all the data that they collect. Drones are a dynamic data collection tool, and the power of that data is largely untapped right now."
Data collected by drones can be calibrated to the existing data being collected on the ground to add more insights to what is really happening at a site.
"It is a more advanced, comprehensive way of collecting a lot of data," Kelley said. "And then when you collect a lot of data, you have to do some pretty sophisticated analysis. … We're really working on the entire ecosystem around the drones: data collection, data analysis, data handling, and then integrating the insights we can produce into consulting-type work that we do for our water and wastewater clients."
Current Applications
For asset-management inspections, facilities use drones that have digital cameras, multispectral sensors to detect pervious versus impervious surfaces, and thermal sensors to find leaks, according to Amy Kopale, GIS Specialist at CDM Smith.
For example, Aldridge said a thermal drone was used to assess leaking aeration piping at a water resource recovery facility. Facility operators were using handheld thermal devices to spot-check thousands of feet of aeration piping joints, but these pipes were about 7.6 m (25 ft) above the floor. The testing required that scaffolding be built and moved to test each new section of piping.
In a day, "we were able to fly over it and ended up identifying about 25 areas of interest where they needed to focus their investigation," Aldridge said. "So that limited their need to build scaffolding and cut the project down by weeks if not months."
"We're learning that the temporal aspect is really important too," Kelley said. "Having data — be it photos or sensor data — that shows changing conditions over time enables data-users to make more informed decisions."
Soaring Into the Future
Even with the uses in place today, drones overall are just beginning to enter the majority adopter phase, Aldridge said.
"It is estimated that over the next 2 to 7 years, between now and 2030, the drone market and the use cases for drones are going to more than double."
The military is the greatest user of drones today, he said. But one of the biggest increases over the next 5 to 10 years will be in the utility market.
"In the near term, utilities are going to adopt using drones just for taking videos and images. … But the value of the drone is that it makes things safer. You get things done faster, and it's a lot cheaper," Aldridge said. "By 2030, I think there'll be drones active at the majority of utilities."
UAVs and artificial intelligence are coming together to create autonomous (self-flying) drones, too. "Utilities will be able to start rolling out these types of drones to do daily types of asset inspections, enhance security, and provide IoT connectivity to gather field data," Aldridge said.
Equipping drones with new types of detectors, such as hyperspectral sensors, expands the usefulness of what can be seen.
"Hyperspectral sensors are really cool because they're collecting almost continuous data from monitoring the electromagnetic spectrum," Reicks said. "The sensors are also used on the ground for all types of scientific applications. So now we're just putting it on drones so we can see larger areas. It is really unlimited what we can detect once we move into that space."
"The data is the star," Reicks said.