Unrivaled skill, exceptional professionalism, and limitless energy were on display during Operations Challenge 2021, considered the wastewater operations community's most rigorous professional development program. When the dust cleared after two days packed with five mettle-testing events, this year's winning teams were crowned during an awards ceremony on Tuesday evening.
A total of 32 teams competed in the 34th Operations Challenge. Each team completed five events: Process Control; Laboratory; Safety; Collections Systems; and KSB Maintenance. After judges tabulated scores for all events, the winners were:
Division I Winners
First Place – Controlled Chaos from the Water Environment Association (WEA) of South Carolina
Second Place – Lethal Concentration from the WEA of South Carolina
Third Place - Elevated Ops from the Rocky Mountain WEA
Division II Winners
First Place – Technicians from the Chesapeake WEA
Second Place – RI-CONN United from the New England WEA
Third Place – Brown Tide from the New York WEA
Division III Winners
First Place – Smooth Operators from the North Carolina WEA
Second Place – Watertown Waterbears from the New York WEA
Third Place – Bio-Wizards from the Florida WEA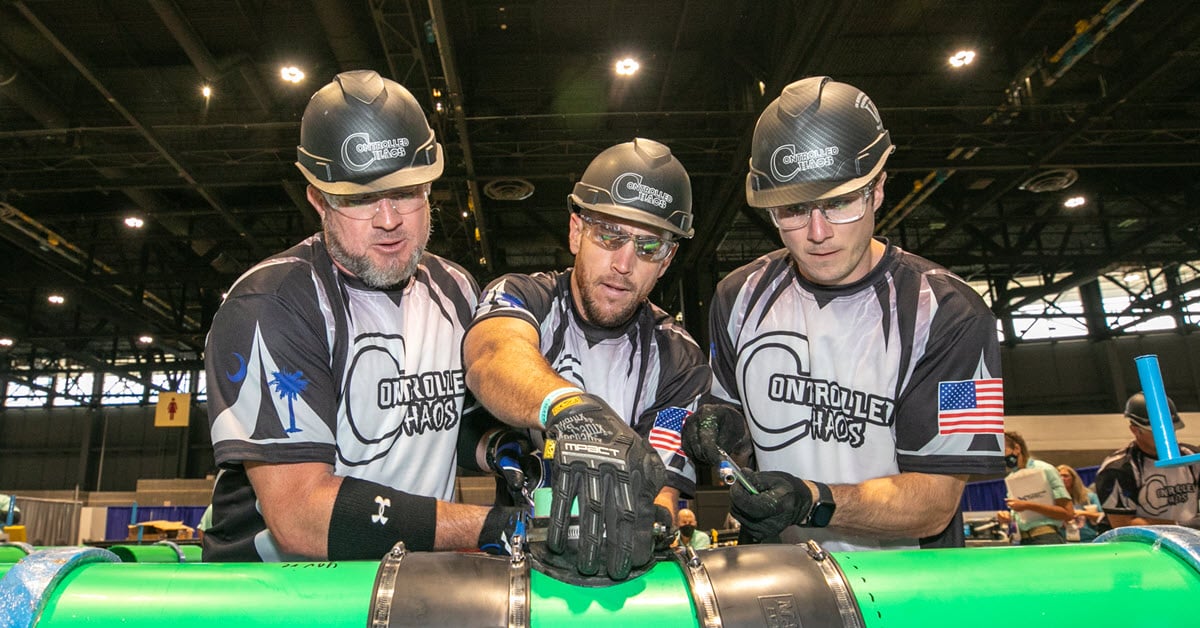 Controlled Chaos from the Water Environment Assoication (WEA) of South Carolina earned first place in Division 1 of Operations Challenge 2021
Process Control Event
On Monday,, teams completed the timed Process Control Event to test their mathematical aptitude and familiarity with wastewater treatment processes consisting of both written and electronic portions. For part of the trial, teams used a specialized wastewater treatment process simulator to visualize real-world problem scenarios and make real-time decisions to fix them.

Laboratory Event
The subsequent Laboratory Event called on teams to analyze a range of water quality parameters across a variety of settings — including influent, aeration basins, and effluent — more quickly than their opponents. The event required competitors to demonstrate their competence in such lab-based tasks as sampling, sample preparation, data collection, and data interpretation, as well as their familiarity with common laboratory equipment.

Safety Event
On Tuesday, the Safety Event required teams to respond to a hypothetical emergency in which a co-worker had collapsed inside a maintenance shaft. Acting as a rescue team, competitors had to safely enter a confined space, retrieve the incapacitated co-worker, diagnose and fix a safety hazard within the confined space, and re-seal the maintenance shaft.

Collection Systems Event
In the Collection Systems Event, teams vigorously bisected a stretch of 8-in. PVC pipe to fix a leak, connected a 4-in. lateral, and programmed an autosampler, all while water continued to flow through the pipe.

KSB Maintenance Event
Finally, competitors in the KSB Maintenance Event responded to an alarm at a hypothetical treatment facility. The alarm was triggered by the accumulation of non-flushable wipes that had incapacitated a pump station. The teams had to to troubleshoot an electrical control panel, perform maintenance on a submersible pump and wet well, and ultimately restore the pump station back to its normal operation.
Division III Debut
This year's Operations Challenge marked the introduction of Division III, which consisted of teams in which no members had previously competed in an in-person WEFTEC Operations Challenge event. Division III included teams who made their debut last year during the WEFTEC Connect virtual Operations Challenge competition. Division I featured returning teams who had placed highly during previous WEFTEC competitions, with all remaining teams competing in Division II.
Throughout the competition, spectators observed teams reconnecting with colleagues after 2 years apart, as well as new contenders acquainting themselves with like-minded professionals from all corners of the U.S. and Canada.
---
Read WE&T For More Details
The December 2021 issue of Water Environment & Technology magazine will contain full coverage of this year's Operations Challenge competition.

Find Past Winners
You also can find the full history of Operations Challenge coverage at www.weftec.org/OChistory. Since the event's inception in 1988, WEF's magazines have chronicled the details of each competition.