Chicago-area veterans and military spouses, the water sector wants you!
No matter your MOS, rating, or specialty code, there is a career in water for you. Please join us at the Water Environment Federation's Technical Exhibition and Conference (WEFTEC) on Tuesday, October 3, 2023. Don't miss this opportunity to meet employers and learn about the industry at the largest annual water quality event in the world. Transportation*, registration, and lunch will be provided. Military spouses are welcome, and you'll have a chance to win a $100 gift card.
Sign up by September 23. Conference registration instructions will be sent out in mid September.
Questions? Contact WorkforWater@wef.org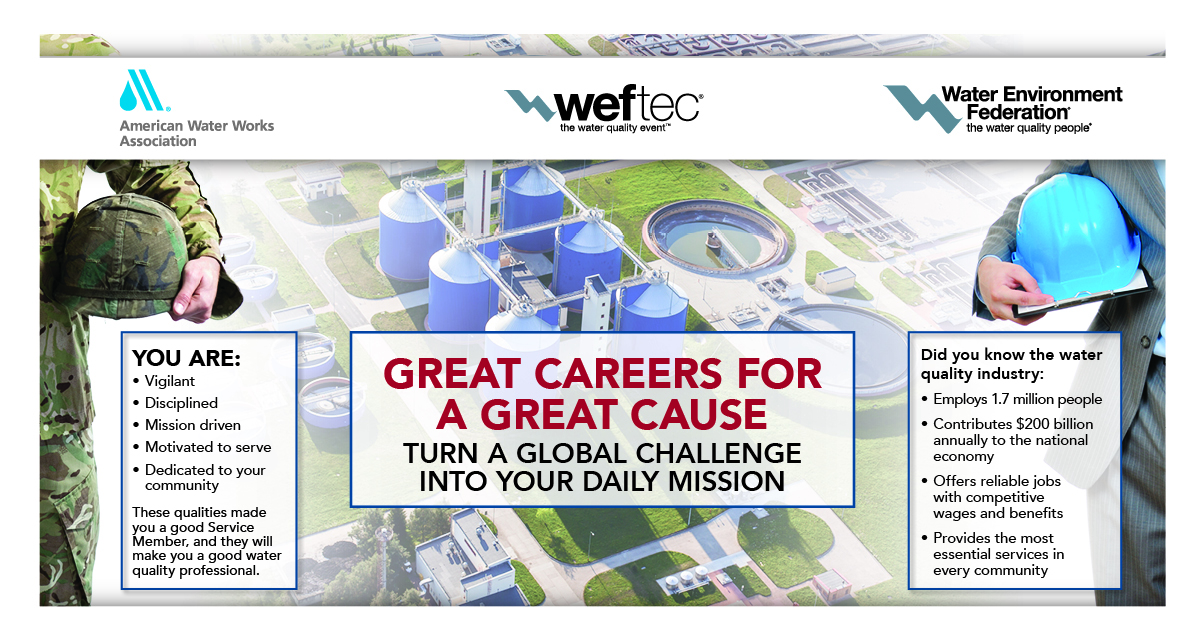 *Bus transportation will be provided from Naval Station Great Lakes. If you are arriving on your own, you can find directions and other transportation information on the McCormick Place website.
Schedule of Events
12:00 – Transportation departs for Naval Station Great Lakes.
13:00 – Transportation arrives at McCormick Place. For those arriving on their own, meeting instructions will be provided.
13:15 – Tour of Exhibition floor and Operations Challenge
13:45 – Introduction to the water sector and success stories
14:15 – Career Fair - Network with sector employers, TAP resource providers, and Skillbridge program partners. Boxed lunch will be provided.
16:00 – Free time at the Exhibition and Exhibition Reception
16:30 – Return Transportation departs McCormick Place